Techstars in New York City, this week announced it is teaming up with ad agency R/GA that has developed marketing around products based in technology and design.
The Connected Devices Accelerator, their New York-based startup facility, launched this week. It is looking for applicants. Startups accepted into the program will receive up to $120K in funding as well as mentorship from Techstars' deep network and advice and support from development and design executives at R/GA.
The Nike+ Accelerator, in Portland, Oregon, is also managed by TechStars. It hosts 10 companies for a three-month, immersive, mentor-driven experience. The focus is to allow companies to leverage the Nike+ platform, and NikeFuel, with mobile apps.
Portland's powerhouse ad agency, Weiden+Kennedy started one of the first incubators here, the Portland Incubator Experiment, which has been wildly successful.
At the grand opening of the newest Portland startup incubator, the TiE Pearl launch, in Northwest Portland this spring, Ted Wheeler, Oregon's State Treasurer, was the guest of honor, along with venture capital leaders attending from Silicon Valley and elsewhere.
Portland Startup Incubators include the Portland Incubator Experiment, Nike+ Accelerator, run by TechStars, PSU Business Accelerator, Upstart Labs, TiE Pearl Incubator, Oregon Technology Business Center, Cambia Health Solutions, Tech4Change! and TenX.
Engadget reports that fitness expert Jay Blahnik, who consulted with Nike during development of Nike's FuelBand, has joined Apple.
Both 9to5 Mac and AllThingsD say his role hasn't been defined publically, but working on an Apple developed wrist-worn device wouldn't be hard to imagine. Fitness will likely play an important role in Apple's device roadmap.
Samsung's smart watch, rumored for Sept 4th, may have a 2.5 inch OLED display, Bluetooth 4.0, a dual core processor and decent battery life.
ABI Research forecasts shipments of Bluetooth enabled sports and fitness devices will grow ten-fold from 2011 to 2016, totaling 278 million and representing over 60 percent of the total available market.
In it's new report, IC Insights says Bluetooth unit shipments will grow 29% per year over the 2010-2015 time period.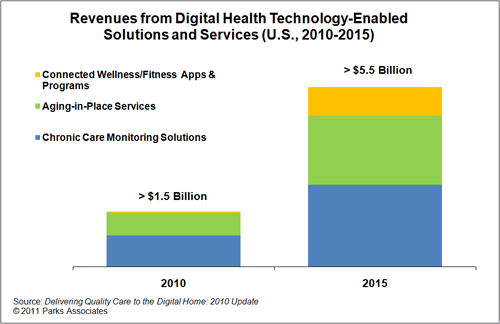 Juniper Research predicts by the year 2014, there will be a total of 2.7 million annual mobile health monitoring events globally, generating some $1.9 billion at the end of 2014.
Related Dailywireless articles include; Nike+ Accelerator Program for Startups , City Tech Maps, Portland Startups, Cloudability's Startup Story, City Tech Maps, Nike+ Accelerator Program for Startups , Venture Capital: Growing in the Northwest, Kickstarter for Fiber Nets?, Spotlight Mobile's Meridian: Indoor GPS, Bluetooth LE: Running for Certification, Real-time Running and Biking Apps, Bluetooth Bike and Fitness Sensors Get Smart , Polar Ships Bluetooth 4 Heart Monitor, HTC One S: Android 4 & Bluetooth Low Energy and FCC Okays Medical Body Networks, Wireless Control Expands Reach, Texting Clogs Cycling GPS Trackers at Olympics, Wireless Health Initiatives, Medical Devices Mobilize, Apps Enter the Twilight Zone, Mobile Health: Fast Growth , Open Source Tricorder and Mobile Health: Alive and Well.