Samsung says its Galaxy NX, is the world's first 4G interchangeable lens Connected Compact System Camera. The new Samsung camera is more ambitious than the company's point and shoot Galaxy Camera, which runs Android 4.1, or Nikon's S800c, which runs Android 2.3.
Running Android 4.2 Jelly Bean, the Galaxy NX can be personalised with a range of Android apps to help capture photographs and video, edit or add special effects. The Android camera may also omit the need for a computer for uploading photos.
It features WiFi (a/b/g/n) at 2.4GHz and 5GHz, Bluetooth 4.0 (LE), NFC
and a 4G LTE/3G HSPA+42Mbps cellular data modem.
Currently there are 11 Samsung lenses available. The NX-mount is only supported by one additional manufacturer: Samyang Optics, which only delivers prime lenses without autofocus / image stabilization.
The new Samsung camera is more ambitious than Samsung's point and shoot Galaxy Camera, which runs 4.1, or Nikon's S800c, which runs Android 2.3.
With Android and Wi-Fi, it's possible to upload images directly to a social network service or website. Unfortunately, most cameras don't also include an intervalometer that could automate webcam photography.
The CHDK project has modified the firmware for many Canon PowerShot cameras, including the SX280 HS which includes Wi-Fi connectivity and GPS.
Canon's CameraWindow app from the App Store or Google Play can connect their camera to your phone for wireless control (and then on to an on-line network). You can also connect the camera to a free CANON iMAGE GATEWAY account to send photos to Facebook, Twitter, email or YouTube, but it's complicated and confusing.
Nikon's Coolpix P330 works with their WU-1a Wi-Fi unit. But, again, Nikon's Wireless Mobile Utility app for IOS or Android must first be installed on a phone or tablet. The COOLPIX s6600 is Nikon's latest point and shoot with WiFi – but no interval timer.
I'm still waiting for an inexpensive Android camera, with an intervalometer and a cellular connection that I can use for my webcam.
Oh, wait…I guess I have one in my pocket!
IP Webcam turns your phone into a network camera. The Google+ app for iPhone brings instant photo uploads, a cool feature previously available only to Android users. Once enabled, Instant Upload will automatically send your photos and videos to a private Google+ album, where you can pick which ones you'll share.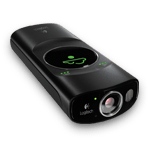 The $280 Acer Iconia W3 is an 8″ tablet running an Atom processor with full Windows 8 support with a 2MP Rear-Facing Camera.
I guess a Windows tablet wouldn't be a bad solution, but Logitech's Broadcaster Wi-Fi Webcam ($199) claims to offer quick, one-time setup without a computer. Video can be stored locally or streamed to Ustream. I might team it with a $50 Clear modem and $35/mo service.
Ustream is the largest live streaming service provider and offers an unlimited free live streaming service funded by advertising, as well as white label versions starting at $99 per month. Newtek makes the $5,000 TriCaster 40, a complete HD multi-camera video production studio.
There are lots of interesting Webcam Chrome Experiments. It's the first step in enabling high quality video and audio communication as part of WebRTC.
Web Real Time Communications is a real-time communications standard for the open web platform. WebRTC is currently supported by Google Chrome, Mozilla Firefox and Opera.
WebRTC enables browser-to-browser applications for voice calling, video chat, and P2P file sharing without plugins.
An Arduino Pixy is a small camera about half the size of a business card with image recognition built-in. It's an add-on to the Arduino. Raspberry Pi is a credit-card-sized single-board computer developed in the UK. Their camera module inserts into the connector situated between the Ethernet and HDMI ports and has a resolution of 5MP, with a fixed-focus lens and produces video at 1080p at 30fps.
Hey, how about real-time projection mapping on performers wearing skin-tight body suits.
NevronMotion is motion capture software for LightWave 11.6 that supports the popular Microsoft Kinect.