YouTube is quickly going mobile. Small screens now make up 40% of You Tube's traffic compared to 25% last year, Google said on its earnings call today. In 2011, just 6% of YouTube traffic came from mobile. According to Google, more than 1 billion unique users visit YouTube each month.
The YouTube Trends Map shows today's most popular videos in major markets across the U.S. You can also see what's popular with women or men, as well as by different age groups. Google's not the only one rapidly shifting a 1 billion+ user base to mobile, observes TechCrunch.
Facebook said it had 819 million monthly mobile users (73%) out of its total 1.15 billion users in Q2 2013, up from 543 million (56%) of 955 million in Q2 2012. This figures people who have used Facebook mobile at least once, but may also have used desktop.
Facebook doesn't share what total percentage of usage comes from mobile, but 41% of its ad revenue comes from phones and tablets, up from 30% in Q1 2013.
Video on mobile is big and getting bigger. It's the main reason carriers are investing in WiFi hotspots, world-wide.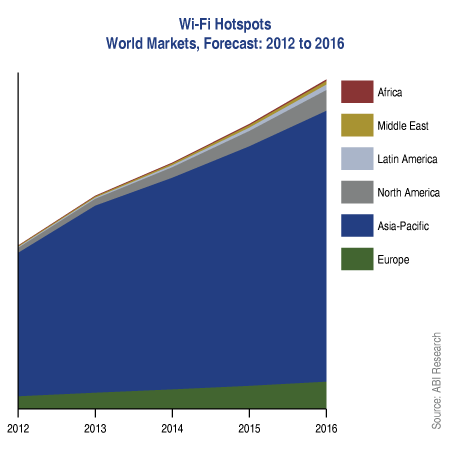 Worldwide carrier Wi-Fi deployments reached 4.9 million hotspots in 2012 and will surpass 6.3 million by the end of 2013, according to ABI Research. Mobile carriers are investing in Hotspot 2.0 offloading service which will provide free WiFi (for their customers).
The big 5 cable operators are fighting back. They have agreed to unite on a plan to allow their customers to freely roam across each others Wi-Fi hotspots. Cablevision, for one, has now deployed more than 100,000 hotspots in its tri-state NewYork/New Jersey footprint. More than 150,000 "CableWiFi" hotspots are now available nationwide in this partnership.
The "CableWiFi" network identifier (SSID) allows devices to auto-connect to a "CableWiFi" hotspot when in range. The wireless gateways that Comcast is installing in Xfinity Homes, contain two SSIDs, enabling consumer cable WiFi boxes to "share" their WiFi.
Comcast launched a new network of more than 1,000 Wi-Fi hotspots in Utah this week that will allow Xfinity Internet customers to access their partner's nearby WiFi hotspots free. It will also be available to non-Comcast customers free of charge, but only for two, one-hour sessions every 30 days.
Comcast says Wi-Fi users will have access to more than 300,000 hotspots nationwide through the CableWiFi roaming partnership.
Cable operators hope to deploy "millions" of neighborhood hotspots, helping the MSOs compete with mobile carriers and truly "free" WiFi services, available in some hotels, city parks and public spaces.
Video is rapidly dominating the payload of mobile devices. Cable, DSL, and mobile operators are fighting to keep their subscribers in the loop.
But with the unlicensed 5 GHz band opening up, there's nothing to stop competitors from entering the field. New competitors may not require users to buy a "bundle" of landline services they may not want or need. Direct access to video programming, from "Over The Top" providers like Netflix and others, may stimulate the market for even more mobile and fixed broadband.
Free WiFi – without the "bundling" – is a compelling proposition for consumers. Making it compelling for providers is the tricky bit.