Germany wants an internet of their own, with state-backed Deutsche Telekom pitching the idea that German communications companies cooperate to shield local internet traffic from foreign intelligence services, reports Reuters.
Germany on Wednesday said that it had evidence that Chancellor Angela Merkel's mobile phone had been monitored. Her Nokia 6260 Slide phone was used from October 2009 until July 2013. Voice communications were secured by SecuVOICE, made by Secusmart.
The allegation that the NSA collected more than 70 million 'recordings of French citizens' telephone data is false, said Director of National Intelligence James Clapper.
The NSA monitored calls of 35 world leaders after US official handed over contacts, reported the Guardian this week. On September 5, The Guardian, The New York Times and ProPublica jointly revealed that NSA has a top secret program to break encryption systems used on the internet. This is done by, for example, inserting vulnerabilities into commercial encryption and IT systems, according to Electrospace.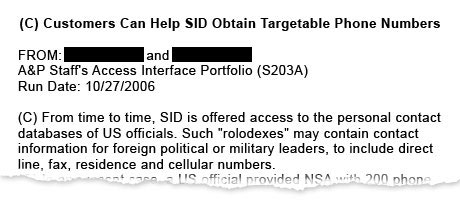 One classified document provided by whistleblower Edward Snowden notes that one unnamed US official handed over 200 numbers, including those of the 35 world leaders, none of whom is named. These were immediately "tasked" for monitoring by the NSA.
The Washington Post reports the US government and Global Crossing had a "Network Security Agreement" to allow streamlined intercepts of international fiber-optic cables.
Der Spiegel reports of the NSA's Secret Spy Hub in Berlin.
French President Hollande called for a code of conduct among the intelligence agencies, reports Der Spiegel, an idea for which Merkel also showed support.
But soon doubts emerged: Wouldn't Europe also have to take a look at its own surveillance practices? What if a German or French Snowden came forward to reveal dirty spy tactics? British Prime Minister David Cameron pointed out how many terror attacks had been prevented because of spying capabilities. Then it was asked whether it has been proven that Obama even knows what his agencies are doing.
That was a bit too rich for Hollande: No, he interjected, spying to such an immense degree, allegedly on more than 70 million phone calls per month in France alone — that has been undertaken by only one country: the United States. After nearly three hours, the EU member states agreed on a statement that can be read as clear disapproval of the Americans.
An N.S.A. statement said that "General Alexander did not discuss with President Obama in 2010 an alleged foreign intelligence operation involving German Chancellor Merkel, nor has he ever discussed alleged operations involving Chancellor Merkel."
The White House cut off some monitoring programs after learning of them, including the one tracking Ms. Merkel and some other world leaders, a senior U.S. official said.
According to a report in El Mundo, the NSA also collected data on 60 million phone calls in Spain over a 30-day period in December, 2012.