Gogo, which provides airline internet in the United States, is now partnering with Japan Airlines, reports Engadget.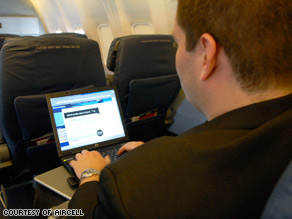 It's Gogo's first international service and will utilize Gogo's Ku-satellite connectivity technology. The partnership will provide WiFi to 77 planes in Japan. Gogo says it will use Ku-satellite transponders but it won't go live until some time in Summer 2014.
Today Gogo has over 2000 commercial and 6,000 business aircraft, making Gogo the world leader in in-flight connectivity.
In 2006, Gogo was awarded the FCC's exclusive Air-To-Ground (ATG) at 3Ghz. The original service used terrestrial cell towers that looked up.
Gogo hooked up with Inmarsat's Global Xpress satellite service in November, 2011 and has satellite agreements in place with SES (for coverage over the U.S., Atlantic Ocean and Europe) and Intelsat (for coverage over portions of the Atlantic and northern Pacific oceans.
The SES teleport in Woodbine, Md. and the SES 1 and NSS 703 satellites will support two-way Gogo broadband traffic during commercial flights over the United States and the North Atlantic Ocean region.