According to market researcher Fiksu, the iPad Air received nearly five times the first weekend adoption of the fourth generation iPad.
Fiksu says three days after the iPad Air went on sale, it was being used by 0.88 percent of its apps customers – which is much better than either the 0.15 percent who were on iPad 4 three days after its launch, or the 0.22 percent who were on iPad mini at the same time.
The iPad Air has attracted more early adopters than both devices combined, says Fiksu. The iPad Air uses hardware components from the iPhone 5S, such as its 64-bit Apple A7 system-on-chip and Apple M7 motion processor. It also includes a 5 megapixel rear-facing camera, a FaceTime HD front-facing camera, support for 802.11n, and an estimated 10 hours of battery life.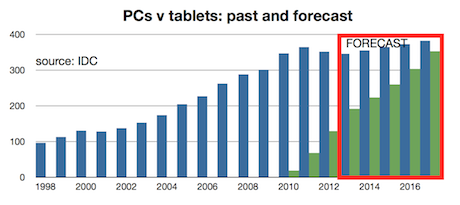 Tablets will challenge PC sales by 2017, says IDC.
IDC projects Android and IOS tablet will battle for market share leadership over the next 2-3 years, while Windows tablets are projected to grow fast.
In other news, C/Net reports that T-Mobile's no-money-down iPad offer requires $20 monthly plan for new customers to get 200 megabytes of "free" data. The 200MB of data is "free," but doesn't kick in until after you sign up. New customers hoping to pay for their tablet in monthly installments and get the free tablet data deal will also need to sign up for a $20-a-month plan. New customers who paid full price for their iPad Air or any other tablet will be able to get the 200MB data plan for free. Customers can also bring in their own T-Mobile-compatible tablets.