It's been a long time coming, but mobile payments, via the Isis Mobile Wallet, is finally going live nationwide, reports C/Net. ISIS conducted pilot tests in Austin, Texas, and Salt Lake City, Utah.
Isis, which has been building its mobile-payment platform and going through trials over the last few years, is now available for select Isis-compatible smartphones — but not the iPhone. It also comes with a few financial incentives to get users on board.
Isis, jointly run by Verizon Wireless, AT&T, and T-Mobile, is just one of many companies striving to serve as the digital wallet for consumers.
Sprint is not part of the ISIS consortium. Google Wallet and PayPal, among others, have competing systems.
Google Wallet launch partners include Citi as the issuing bank, MasterCard as the initial payment network, and Sprint as the first mobile carrier.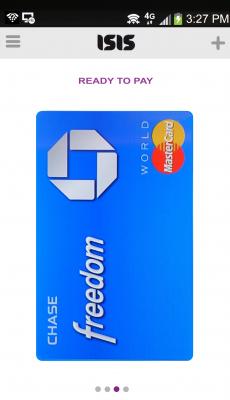 ISIS simply stores Master Card, VISA, American Express and Discover credit card information in a smartphone to avoid carrying all these cards in your wallet.
When you buy something, instead of scanning credit card and producing signature or entering a PIN, you can tap your mobile device on ISIS enabled point of sales system.
Google and PayPal have a cloud based approach to in-store mobile payment, allowing you to sync your preferred payment method across multiple devices and keep track of both your online and in-store purchase's through Google's web Wallet.
Isis plans to preload its wallet on the NFC-enabled phones the carriers sell and projects there will be 30 million of these wallet phones in the pockets of consumers by the end of next year. There are already 40 models in shops that could be used for Isis with the proper SIM. The joint venture announced the rollout plans in July.
Like Google Wallet, Isis employs near-field communication, or NFC, which enables customers to wave their phone at special cash registers to pay for a soda or cab ride. NFC builds upon RFID systems by allowing two-way communication between endpoints.
Near Field Communication is a short-range wireless technology that enables the exchange of data between devices over about a 10 centimeter (around 4 inches) distance using globally available and unlicensed 13.56 MHz, with a bandwidth of 14 kHz.
Apple has so far resisted integrating NFC in its iPhones, but an Isis representative said that iPhone support would come at a later time.
The risk inside a credit card with RF-ID may be real, according to this report. A tinfoil hat for your credit cards might be a good idea.
The mobile payment market, which was $5.2 billion in 2009, is expected to jump to $56.7 billion in 2015.
Related Dailywireless articles include; Starbucks Launches Mobile Wallet, SIM Card Security Broken, NSA Spying Threatens Global Internet?, DASH7 Alliance Announces M2M Standard , DASH7 Begins Certification Program, DASH7: Sensing On The Move, Phones Become Wallet, Isis Ready to Launch – Again, Cashless Vending Machines Use ISIS, Isis Coming to Austin, Google Wallet, Google Wallet Stolen?, Carriers Switch Electronic Wallets, Salt Lake City: First Mobile Payment City in US, Mobile Payment Spreading, Visa: Near Field Communications, iPhone NFC?