New Street Research analyst Jonathan Chaplin, speculates that Dish Network could acquire the most spectrum of any company–around 60 MHz–over the course of the next year. That would give the company as much as 100 MHz–positioning it as a major wireless player, reports Fierce Wireless.
According to Chaplin, Dish could spend up to $10.7B on LightSquared, H Block, AWS-3 and 600 MHz spectrum.
Dish may win the FCC's H Block spectrum auction by default (Sprint and T-Mobile aren't participating) and Chaplin believes Dish will also acquire some AWS-3 and 600 MHz licenses as well as Lightsquared. The result, according to Chaplin, could give Dish as much as 100 MHz of spectrum ranging from 600 MHz to 2 GHz.
Dish could then become a major entity in the wireless market. Dish could partner with either Sprint or T-Mobile US and disrupt the current balance of power in the wireless industry.
Perhaps Google and Facebook could be content parters. But the infrastructure problem remains.
Why would Sprint or T-Mobile share their towers with an entity that will undercut their business?
Dish may have an ace in the hole – their rooftop satellite terminals. They're ideally positioned to provide small cell coverage. With or without the carriers.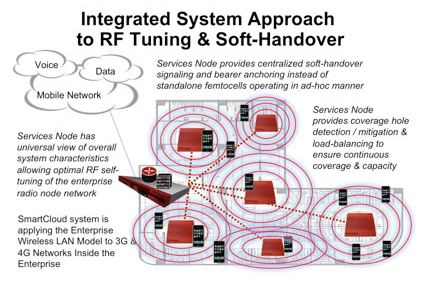 The SpiderCloud Wireless SCRN-310 is a small cell that can offer 3G/LTE and WiFi service. The SCRN-310 uses an integrated 3G/LTE baseband SoC from Broadcom and supports 32 3G/HSPA+ channels, 32 active LTE users and 128 LTE Connected Users and supports Voice over LTE (VoLTE). They partnered with Vodafone. Meanwhile, Qualcomm partnered with Alcatel-Lucent to create similar self-organizing networks of small cells.