Internet TV start-up Aereo said on Tuesday that the company had turned a profit in some of its markets, and is also looking for broadband partners to pair with its service.
Aereo, launched in March 2012, retransmits local broadcast signals over the Internet for $12 per month. It started in New York and has since expanded to about 10 cities with plans to enter several more next year.
Their business model is under attack by broadcasters and cable operators. Broadcasters, who get their spectrum free, say the company is stealing service.
Aereo has so far gained backing by court decisions. They argue their "long antenna cable", can avoid "retransmission fees" because each user is assigned their own centrally located antenna. It's similar to households using over the air antennas. The streaming service can be played on computers or boxes like Roku.
A wireless connection using Chromecast or Miracast enables televisions to display streaming media from a phone or tablet.
Google, Yahoo, Amazon, Apple and Facebook may also be looking for a video partner. Aereo, Netflix and Hulu need the capacity only big chunks of spectrum can provide.
Overage fees would kill any wireless video network. So any video partnership would also need a network partner. That would be Sprint and Dish. They're the only ones with enough spectrum to deliver (virtually) unlimited video. The Sprint Unlimited Guarantee provides customers unlimited talk, text and data.
Sprint has promised–50-60 Mbps real-world speeds in the near-to-medium term, with 150-180 Mbps in two years using Sprint Spark, with seamless roaming across their 800 MHz, PCS and 2.5 GHz bands. Sprint says they'll deploy Spark in about 100 of the nation's biggest cities in the next three years, with about 100 million Americans having access by the end of 2014.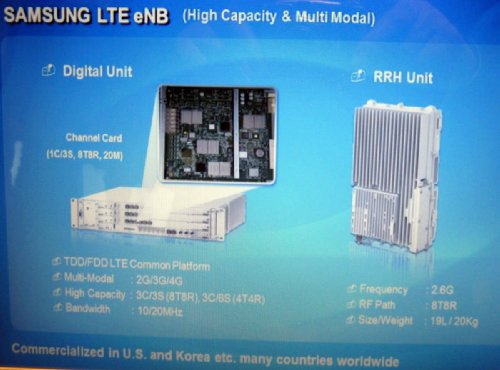 Sprint's Spark uses 8 Transmitters 8 Receivers (8T8R) and as much as 60 Mhz of their available 120 MHz. That's unprecedented capacity and speed. The Qualcomm Gobi 9×35 LTE modem supports 40 MHz carrier aggregation with download speeds up to 300 Mbps.
Chipmakers like Broadcom and Qualcomm might deliver HDTV at 2 Mbps utilizing H.265 without breaking the spectrum bank. Daala will provide a free, open source, H.265-like alternative. It's being developed by the Mozilla Foundation, Xiph.Org and others.
Sprint and Dish Networks have the spectrum. Aereo's got the local connection. Google's got the ad network.
If there's going to be a partnership between Sprint and content providers, then it should happen in the next 60 days. Watch for fireworks at CES in January or Mobile World Congress in February. I said that last year, too. Hasn't happened – yet.
Related Dailywireless articles include; AT&T's U-verse Goes Mobile, What is LTE-Advanced?, Small Cells, Big Deal, Video Dominates Mobile, Aereo Wins Court Battle with Broadcasters, LTE Broadcast Mobilizes at MWC, H.265 Gets Real, Aereo Vs LTE Broadcast: Fight!, Mobile Video on Diet with Social Graph, Intel: Basestation in the Cloud, China Mobile Awards Contracts for TD-LTE, London: The Biggest Small Network in the World, AT&T: 40,000 Small Cells, Softbank & Sprint Do a Deal, WiMax Forum Embraces TD-LTE, Small Cell, Big Growth, Sprint to use LightRadio for Small Cells, Alcatel-Lucent: Small Cell lightRadio, DIAL: Smart TV App Browses for Movies, Mobile: The New Television, Verizon & AT&T Launch Targeted Advertising CBS Helps Launch Dish Hopper with Sling, What is Miracast?,Mobile TV at NAB 2012, Mobile TV Handsets: Two Flavors,