Apple and China Mobile have (finally) announced an agreement to bring iPhone to the world's largest mobile network. As part of the agreement, iPhone 5s and iPhone 5c will be available across mainland China beginning on Friday, January 17.
The iPhone on China Mobile will support TD-SCDMA (3G) and TD-LTE (4G) which have not previously been available on Apple's iPhones.
China Mobile's TD-LTE network uses 2.5 GHz, virtually identical technology used by Sprint's Clearwire, making it likely that Apple will introduce a Sprint Spark model in the future to compete with the Spark-enabled Galaxy S4.
China Mobile, the world's largest mobile phone company with over 760 million subscribers, is rolling out the world's largest 4G network. The company says it now has over 1.2 million 2G/GSM, 3G/TD-SCDMA, 4G/TD-LTE base stations and over 4.2 million Wi-Fi access points. By the end of 2013, China Mobile's 4G services will be available in 16 cities including Beijing, Shanghai, Guangzhou and Shenzhen.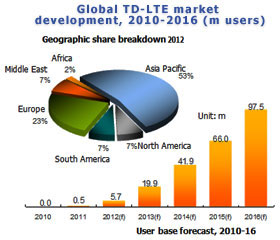 By the end of 2014, China Mobile plans to complete the rollout of more than 500,000 4G base stations, which will cover more than 340 cities with 4G service.
Apple could sell millions of iPhones next year through China Mobile, reports All Things D. Piper Jaffray sees the potential for 17 million sales by China Mobile, while ISI analyst Brian Marshall said sales could reach nearly 39 million iPhones next year.
China Mobile controls the vast majority of its domestic mobile services market with a 70% market share, according to Wikipedia. China Unicom (GSM) and China Telecom (CDMA) have 20% and 10% shares, respectively.
According to the Associated Press, China Mobile rivals China Telecom and China Unicom, with than 450 million subscribers between them, pays $410 of the iPhone's $900 cost in exchange for a customer signing a two-year contract to pay a minimum of $30 per month. China Mobile will likely have to match those terms to achieve significant sales.
But most of China Mobile's subscribers are still using 2G. Their S-CDMA (3G) system has not been broadly adopted as a world-wide standard, unlike the TD-LTE (4G) standard.
China Mobile's iPhone supports all major network standards, making a global phone.
Apple's net sales in China for the fiscal year ended September 2013 were $25.4 billion, accounting for about 15 per cent of Apple's $171 billion in total net sales.
Apple could expect as much as a $3 billion bump in 2014 revenue, say industry observers. China is Apple's second-largest market after the United States. Apple currently sells phones to China Telecom and China Unicom but not China Mobile.
TD-LTE is spectrally efficient because it allows asymmetrical use of unpaired spectrum, for both uplink and downlink. The FCC, however, auctions spectrum in paired (Frequency Division) lots. That's because the carriers write the FCC guidelines, say critics. Efficient use of spectrum is not the carrier's main concern. They can just raise prices.
Selling more iPhones is not the real story here. It's 2-3 billion people coming on-line with smartphones and broadband. It's going to be a different world in the next few years. In ways difficult to foresee.
Related Dailywireless articles include; No Apple Announcement (Yet) from China Mobile, Apple TD-LTE Phones to China Mobile , China Issues TD-LTE Licenses, AlcaLu Wins Big TD-LTE Contracts for China, Ericsson Wins Big China Mobile TD-LTE Contract, China Mobile Getting iPhones?, China Mobile Awards Initial TD-LTE Contracts