This Sunday's Superbowl between the Denver Broncos and the Seattle Seahawks is an interesting exercise in mobile broadband deployment.
The 82,500-seat MetLife Stadium is built to handle 25,000 to 30,000 concurrent Internet users across cellular and Wi-Fi networks.
The appeal of WiFi networks is that fans get free, capacious bandwidth, while teams and the NFL own the data and the insights. The Wi-Fi network, open to all fans, has about 900 access points, using Cisco equipment powered by the new 802.11ac standard. The NFL is planning to block live streams, however.
Detecting threats will be helped using Haystax's cloud-based tools, reports C/Net.
Haystax's algorithms and behavioral models identify the types of risks and the potential impact of their actions that individuals pose to an organization. The predictive models are continuously updated based on the prevailing threat environment for both detection and continuous evaluation of threats. It can ingest streaming data from a wide range of structured and unstructured information sources to detect patterns and predict likely events.
The federal government considers the Super Bowl a Level 1 event. That means the event is eligible for assistance from the Department of Homeland Security, and federal agencies like the F.B.I. and the Federal Aviation Administration are involved as well.
This year's event, which will be open Super Bowl Boulevard from noon to 10 p.m. from the Wednesday to the Saturday before the game, will take place in one of the most densely packed urban areas of the country. And it will be during a workweek, with tens of thousands of people streaming in and out of offices, shops and restaurants and delivery trucks, taxis and other vehicles plying the streets.
SWAT teams, aerial surveillance and even divers will protect the site. Sharpshooters and equipment that can detect chemical, biological, radiological or nuclear weapons will be deployed. A mobile operating room will be set up in case of any severe medical emergency.
A no-fly zone one nautical mile (1.15 miles) around the stadium will go into effect on game day, then be expanded to an eight-nautical-mile radius until one hour after the game.
More than 80,000 fans are expected to attend the February 2 football event at MetLife Stadium in East Rutherford, New Jersey. It's the first mass transit Super Bowl because the stadium across the Hudson River from Manhattan is accessible by train and bus. Another 400,000 people will be traveling to the region for surrounding events.
The US Army plans to deploy two massive airships with powerful surveillance systems over Maryland to monitor the country's East Coast round-the-clock.
The aerostats, will be set aloft near the Aberdeen Proving Ground, for a three-year test starting from October. The US Army says the aerostats will cast a vast radar net with the goal of detecting cruise missiles or enemy aircraft.
If any Gorgon Stare drones are planned, government agencies weren't talking. Gorgon Stare is being developed and tested on the MQ-9 Reaper at Eglin Air Force Base, FL.
The Autonomous Real-time Ground Ubiquitous Surveillance – Imaging System (ARGUS-IS) uses 92 cameras at once, says Wired Magazine, compared to Gorgon Stare's measly dozen. The 1.8 Gigapixel video sensor is made up of 368, 5-megapixel video chips mounted in four separate cameras. It requires a 10 TeraOPS processor to crunch the 27 Gigapixels per second at a frame rate of 15 Hz. It uses two pairs of antennas for the Common Data Link and Tactical Common Data Link.
Fox Sports will have 52 cameras dedicated to the Super Bowl. Fourteen are remotely operated, six are 4K high-resolution cameras and eight are high-speed cameras for super slow-mo and X-mo.
Fox Sports is putting the finishing touches on its main broadcast compound with two mobile production units, 10 production trailers as well as edit bays in the Millennium Hotel connected via 2,500 feet of cables.
Along with the television broadcast feed, this will be the third straight Super Bowl to also be streamed online. NBC was the first network to stream online in 2012 and CBS carried on the tradition last year.
For the Super Bowl, Fox will allow free access to the streaming site and
the app for a 27-hour window around the Super Bowl, allowing users to stream both English and Spanish feeds of the game to computers and iPads (the app is an iOS-only).
An exclusive NFL Mobile app from Verizon (IOS & Android), will stream the Super Bowl to smartphones. Online and mobile viewers will get a slightly different version of the broadcast, as the advertising space has been sold separately from the television broadcast feed.
Verizon made a big deal about using LTE Broadcast a year ago at CES, but so far the company hasn't said much about the technology which can multicast a broadcast to thousands using a single LTE cellular channel.
eMBMS (the LTE version of Multimedia Broadcast Multicast Service) can be particularly useful for densely populated areas such as sports stadiums or concert halls since only one cellular channel may be used to deliver video, audio or data for thousands of people, simultaneously.
Sequans is one of only two chipmakers providing LTE chips for this demo. Alcatel-Lucent supplied the underlying 4G LTE network equipment for the demonstration, while Verizon's demo phone, a Samsung Galaxy Note 3, is supported by Qualcomm which provided both the Snapdragon 800 processor as well as the middleware that enables the multicast content to be received by these devices, notes Wireless Week.
Korea Telecom launched LTE Broadcast commercially this week, in partnership with Samsung and Qualcomm, while Huawei and Sequans have conducted interoperability tests of eMBMS technology using Huawei's LTE infrastructure. Samsung and Australian carrier Telstra recently demonstrated it in a stadium during a soccer match using Ericsson's LTE Broadcast solution.
Zahid Ghadialy believes Cellular Broadcast may fail again since small screen devices are not really suitable for mobile TV.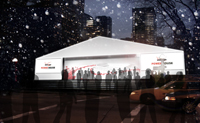 Engadget reports, that Verizon has taken over a good chunk of Manhattan's Bryant Park to show off the carrier's LTE Multicast service. It can using the existing network infrastructure to multicast to mobile devices without draining the monthly data plan.
Here are five Apple & Android Apps You'll Need for the Big Game.
See: Dailywireless Really Big Stadium WiFi, Super Streams for Super Bowl XLVI, Superbowl Goes 4G, London: The Biggest Small Network in the World, AT&T: 40,000 Small Cells, Microsoft Sponsors Free WiFi in NYC & SF, Chicago Announces Free WiFi in Parks, Hotspot 2.0, Cellular/WiFi Roaming Gets Real, Street light Provides Wi-Fi, Cell Coverage, Hotspot 2.0, Intel: Basestation in the Cloud, London WiFi, Producing Olympic Multi-Media , Social Olympics, Microsoft's Streetside: Indoors via Stills & Video, 2010 Winter Olympics, 2008 Summer Olympics, UAV Spy Platforms, Super Streams for Super Bowl XLVI, London WiFi, Producing Olympic Multi-Media