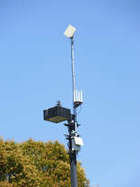 Google's WiFi network in Mountain View, California is set to be replaced with one that is smaller but more capable, reports the Mercury News.
The Google Wi-Fi network was first launched in August 2006 and became one of the first free, public Wi-Fi networks in the U.S. Some 380 access points, all supplied by Tropos were installed that featured meshed networked 802.11g nodes.
No word on what technology Google plans to install, but San José uses Ruckus Wireless in their Downtown hotzone.
The San Jose network uses Ruckus 802.11n radios with multiple antennas and beam-forming. It was implemented by system integrator SmartWave Technologies.
On Tuesday night, the Mountain View City Council approved a new five-year agreement that will see Google turn the downtown corridor into a free outdoor wireless hotspot.
Council members also accepted a $500,000 grant from the Mountain View-based company to install and maintain Wi-Fi networks at the community center, library, teen center, senior center and Rengstorff Park.
The agreement and grant follow Google's announcement that it has invited Mountain View and 33 other cities to begin talks on joining its Google Fiber program.
Google will dismantle the existing wireless system using WiFi hotspots that cover 80 to 90 percent of the city. The system is now plagued with reliability and performance issues.
An app that automatically connects municipal WiFi to Starbucks, seems likely as Google continues to replace AT&T as the official WiFi network at the coffee chain. Google started replacing AT&T at Starbucks in August, and should be in all 7,000 stores nationwide by early 2015.
Although it's just speculation, newer technology that could be considered for Mountain View might include Hotspot 2.0, for seamless roaming to Starbucks WiFi or commercial LTE providers, 802.11ac (with beamforming on the 5 GHz band), unlicensed 3.5 GHz backhaul, connection to the Internet of Things, or Bluetooth beaconing.
A Cloud-based Radio Access Network, where a cellular/WiFi basestation is run on software in a data center would be the most interesting path. It may seem unlikely, but with Dish, Intel and Google's expanded fiber plans in the mix, it's anybody's ballgame.
If T-Mobile and Sprint don't want to join the C-RAN party, Google might blow them off. They can get all the 600 MHz they want next year and Dish is on some 12 million rooftops today.