China's three largest phone companies are in talks to set up a joint venture to develop infrastructure and basestations as a way of cutting the cost of developing and operating their networks, reports Bloomberg. The new venture will promote environmental protection, cut costs and benefit users, the Ministry of Industry and Information Technology said on its website yesterday.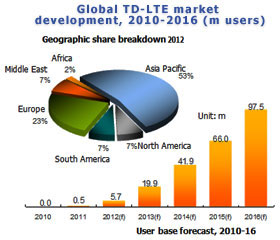 China Mobile, China Telecom and China Unicom each confirmed they are holding preliminary discussions with one another for base station infrastructure. China Mobile is a great supporter of Cloud-RAN architectures, which see most base station functionality virtualized on servers, while its rivals have been less enthusiastic.
The likely outcome of the negotiations, say local analysts, is that the trio will agree to place towers and power into a state-owned company responsible for securing and managing the assets.
China Mobile has said it wants to deploy 500,000 TD-LTE base stations by the end of 2014. The government wants carriers to provide mobile broadband coverage to 32.5 percent of the more than 1.3 billion people in the country by the end of 2015.
The United States can't touch the number of Chinese broadband wireless subscribers soon coming online.