If you want to track trains in real time on the Boston MBTA you now have a choice of two different maps,reports Google Maps Mania.
The Boston Train Track shows the current position of Boston trains on an OpenStreetMap. The trains are color-coded by line and the train markers indicate the direction of travel.
Live MBTA map is not as nice looking, but it includes more information about the individual trains, including the train number, the trains' destination and whether a train is on time or is running late.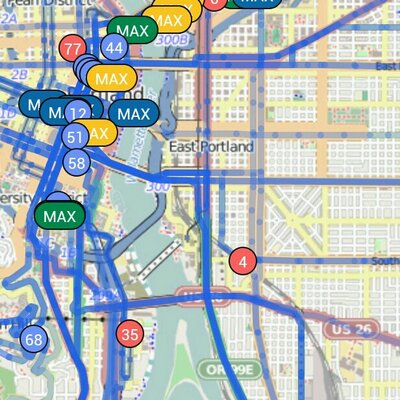 PDXLiveBus made by 23-year-old Portland web developer Jason Brown tracks Portland buses and trains in real-time.
React is a JavaScript library for creating user interfaces by Facebook and Instagram that can build large applications with data that changes over time. Check out Ractive JS for more info, as well as #transportation and #ScoutMyRide.
RideScout is a mobile app that makes it easier to search, discover, and explore transportation options around you with access to bus, rail, bikeshare, car share, taxi, carpool, walking, biking, driving and parking in one simple app. Free on iOS & Android.