A SpaceX Falcon 9 rocket launched six LEO comsats to modernize Orbcomm's orbital fleet of messaging satellites. ORBCOMM says the six satellites' solar panels and antennas deployed properly, and are connecting to their Gateway Earth Stations around the world.
The flight was supposed to take off in early May, but persistent technical issues with the Falcon 9 rocket and the Orbcomm satellites kept the launcher grounded until July.
With the six satellites launched Monday and 11 more spacecraft on the way, Orbcomm expects its 889,000 subscribers will see better service in the coming months. Each second-generation satellite has six times the data capacity and twice the transmission rate of one of Orbcomm's existing satellites.
The OG2 communications system offer transfer rates up to four megabits per second at VHF frequencies between 137 and 153 megahertz. Each vehicle also carries an Automatic Identification System (AIS) receiver to track ships in the open ocean. Orbcomm intends to sell this data to coastguard services.
Companies like Orbcomm, exactEarth, SpaceQuest, and government programs like ESA's ship-tracking satellite program have deployed AIS receivers on satellites, but currently most all AIS is terrestrial-based and dependent on radio towers. Consequently, AIS vessel tracking is available only along rivers or along coast lines, and is not generally available in the open ocean.
The new platforms will join 25 operational first-generation Orbcomm satellites, plus a pair of small ship-tracking spacecraft used by Orbcomm. The new satellites were built by Sierra Nevada and Boeing, and should begin machine-to-machine communications and maritime tracking services within 60 days, according to an Orbcomm press release.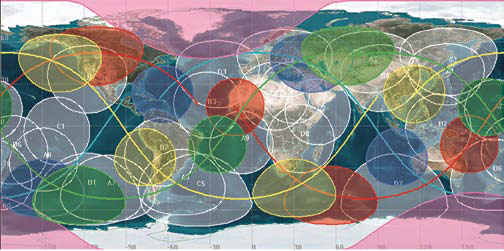 Orbcomm's messaging satellites, unlike the Iridium Next constellation or GlobalStar's 32 LEO satellites don't allow global voice communications with continuous connectivity. They store and forward messaging.
Both the Iridium and GlobalStar satphone constellations plan new M2M services, in competition to Orbcomm, allowing independent contractors to "piggyback" independent hosted services on their satellite platforms.
Iridium NEXT, their second-generation platform, is expected to launch beginning in 2015 and is expected to be fully operational in 2017. The Iridium NEXT satellite network will consist of 66 in-orbit satellites, with six in-orbit and nine on-ground spares. The 48 spot beams from each satellite antenna will collectively cover an area roughly the size of the United States. The constellation will begin launching in 2015 will offer greater bandwidth and data speeds.
Iridium will host payloads designed by other entities. Space is now fully allocated to two companies, Aireon for its space-based aircraft surveillance application and Harris Corporation for additional auxiliary payloads.
Aireon will use the Iridium NEXT hosted payload space to develop the world's first space-based global aviation monitoring system.
ADS-B will be replacing radar as the primary surveillance method for controlling aircraft worldwide. Enabled by Harris' 81 space-qualified ADS-B receivers, the system relies on two avionics components—a GPS navigation source and a datalink (ADS-B unit). This allows controllers to guide aircraft into and out of crowded airspace with smaller separation standards than it was previously possible.
Here's the real-time vessel traffic world-wide posted on MarineTraffic.com, a mashup which was developed and hosted by the University of the Aegean in Greece.
Related DailyWireless Space and Satellite News includes; Cluster of 37 Satellites Launched, Google Buys Skybox Imaging for $500 Million, exactEarth Gets Partner for Space-based AIS , Satellite Swarms Revolutionize Earth Imaging, Google Buying Drone Company Titan, Facebook Announces Connectivity Lab, Iridium Announces Hosted Payloads, ExactEarth Launches 5th AIS Satellite, ExactEarth Launches AIS Satellite, Arctic Technology, Orbcomm: World's Largest Container Tracker, Space-Based Vessel Tracking, AIS Space Race, Orbcomm's Space-based AIS Fails,