Samsung is delaying the rollout of the Samsung Z, the first Tizen smartphone, presumably because there are not yet enough apps on the platform. Samsung said that it was postponing the launch of the phone, citing a need to "further enhance the Tizen ecosystem."
The Samsung Z series will use Tizen rather than Android, and would be released first in Russia. Samsung did not give an updated launch date for the Z or give any more information on its future plans for Tizen.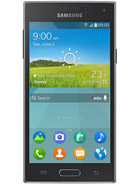 Other Tizen supporters include Intel, Huawei, ZTE, Orange and Vodafone, as well as Sprint. Samsung has released smart watches and a camera running Tizen and has also said the software will be used in TVs and other home appliances.
MeeGo was a Linux kernel-based free mobile operating system project resulting from the fusion of Intel's Moblin and Nokia's Maemo operating systems. The Linux Foundation canceled MeeGo in September 2011 in favor of Tizen.
Samsung hoped Tizen would compete with Google's Android platform, especially in lower-end phones. Samsung scrapped its homegrown Bada platform in 2013 and folded those development efforts into Tizen.
Samsung is the largest smartphone maker in the world largely thanks to Android, but Google controls much of the direction of Android, its look and feel, and makes money from its Google Play store, which sells apps, music, movies and ebooks.